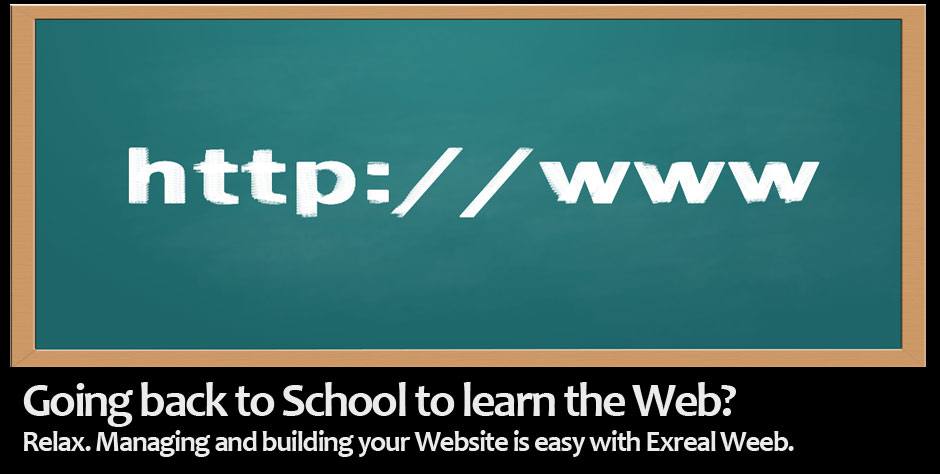 Exreal WebBuilder
Managing your Website content & continuously keeping your Website updated with new features and ideas isn't is the easiest thing in the world. But, at Exreal, we weren't the first ones to realize that.
So, for the first problem, you could use a ready-to-run Content Management Software, or get a developer to build a template based system from scratch and for the second problem, adding new features and ideas, you can hire a developer or a company to build customized code in PHP or any other web centric language to bring in features you need. Yes, we know that would work. That's what most Website owners are doing today.
But, here's the third problem. Now, you will have two systems to run, host and manage, each with it's own set of cons and pros. Each feature you need will need to built, you can forget ready-to-run scripts, because they will never integrate well and may even bring in security issues, which you may not readily see. You might also find your freelance developer/company bailed out on you, your template based system doesn't scale, and  pretty soon there are tons of new things you want and they just can't be done.
Of course, it's a tough problem. If you use a Content Management tool, you can just manage content, building new features requires custom programming outside your Content  Management tool. If you use a Development tool or custom build an application, you don't get all the features you require, and every new feature is a extra development time, increasing costs and complexity. But, we have a solution.
Meet Exreal's Exreal WebBuilder (previously called Weeb); a hosted Web based Rapid Content and Application Management & Development System, which can help you manage your Web content, and provide the platform for deploying interesting Web applications; all through a single easy to manage system, fully maintained and updated by Exreal.
There are tons of features you can add in to your existing website or application, which include things like Facebook widgets, Youtube integration, and if you want anything custom-built it can be done in days & week, rather than  months and years.
Here are some things that Exreal WebBuilder can do today.
Build anything – a Website, Portal, an Internet Application or your next venture
Anything, pretty much anything on and for the Web. You can use Weeb to power a Website, manage web pages or content through Weeb, or you can use it to deploy a portal, with features like chat & forums, a shopping cart,  a social network like Facebook, or all of it together. For fun, you can even use Weeb to build a YouTube like site in 7 days, fully customized with your branding and themes!
It's Fully Managed,  Scalable & Customizable
With Weeb you can start as small as you want and add any number of features later. Each feature is a separate add-on, and we keep adding new ones every now and then. Weeb  run Unix architecture, which is reliable and industry strength, and is easily scalable to support millions of users.
Exreal WebBuilder driven sites can also be made to run on the cloud, if you want more scalability. Of course, your Weeb site / application is also fully managed by Exreal with the hosting; we make sure it runs and we make sure we bug-fix and maintain it.
Weeb is also fully customizable to fit your needs. You tell us what you want your users to see and do, how you want to manage it and we will adapt, customize and build a Exreal WebBuilder site / application to do just that, adding new features into Exreal WebBuilder if need be.
Exreal WebBuilder driven Websites are usually deployable in less 2 weeks time with standard features, deployment time  for customizations and specific applications take longer and are based on the features and exact specifications.
Features
Currently, the following features and add-ons are available for Exreal WebBuilder. Each add-on or feature is individually selectable. Weeb driven websites are hosted and priced on annual basis, accounting for each feature selected.
Integrated Features
Full web-based management control for managing your Web site/application, and add-ons
Template driven. Selectable themes to change the look of your site / application
Built-in RSS/XML feed and syndication for your content or data feed
SEO friendly URLs & SEO optimization built-in
Multi-language. Create content and applications in multiple languages
Performance mode with caching and page compression for superior performance
Available Features
Add Content as Stories, Pages & Blogs
Automatic Imagic Scaling, Newsfeed gathering
WYSIWG editor for editing content, Revisions to maintain more than 1 copy of each piece of content / data
Embedded Video (YouTube, Metacafe etc.), Live TV, Newsfeed, RSS
User Management & Registration system and connectivity to Jabber, OpenID, Google, Blogger
Forums & Comments
Subscriptions – Build Newsletter or send updates directly from the Website to signed up users
Newsfeed tickers, Customized Tickers
Polls, Surveys and Web-based data collection
Charting and Flash based graphics
API provisioning
CAPTCHA and hundreds of other add-ons. A complete list would be available soon for Weeb customers.
Many of the features require to be customized based on your requirement. In addition based on what your Website or application needs to be, Exreal consultants can integrate or custom build additional features, or customize the whole product to suit your need.