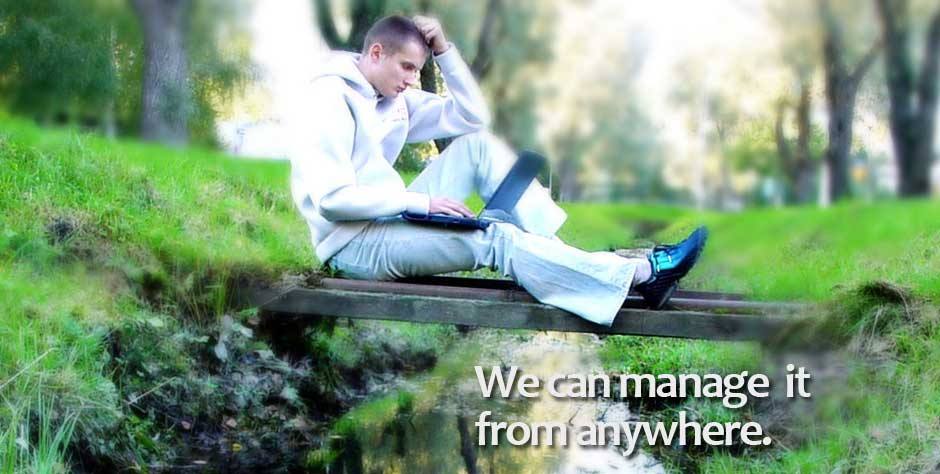 Remote IT Management Services
Even if you use a single computer, perhaps a laptop or notebook, you know how important it is to keep it in shape. Regular virus scans, defragmentations, keeping a tab on the health of your hardware are all day-to-day activities that consume your valuable time and add on to the number of tasks you need to catch upon.
Now, imagine a data center with hundreds or possibly thousands of machines, or your network with a multitude of servers, routers and firewalls. Sure, you can use your systems administrator or network engineers to fix and manage it all. But, are they geared to handle it all? Are they updated with all the relevant technologies? Can they fix it 24×7, can you afford to keep someone with 20 or more years of IT experience?
Exreal's IT infrastructure & Technology Management & Support Services can help; driven with a knowledge base spanning multiple platforms (see our Expertise page for details)  our consultants and network administrators are geared to give you support for your IT infrastructure and monitor your services from our remote locations around the world, 24×7 if needed, using virtual and remote links to your IT networks.
Currently, the following services are available:
Remote Login & VPN Setup
In order to manage your network and it's services remotely, through us or yourself, what you need is a secure way of connecting to your network and it's services remotely.
Exreal consultants can help you choose, install and setup a VPN or other remote login systems like OpenVPN, IPSEC or PPTP, with industry grade encryption. If your offices are on dynamic IP addresses, we can help you map it domain names with Dynamic DNS services from ExrealSpace, our Internet services division.
As part of our setup, and management service we can also continuously monitor your remote login and VPN setups to ensure they are up and working.
Remote Linux/Windows Management/Support for Servers
This service is meant for large/medium/small businesses and enterprises who would like us to maintain and manage their servers remotely or provide support in case of problems, or troubleshoot. This is a great service to use to supplement your onsite engineers with and leverage our knowledge base to fix issues fast.
The remote management & support service is currently available for Linux & Windows servers and we will be adding support for other OS variants and equipments like routers and physical hardware with built-in hardware management consoles in the near future.
Remote Monitoring of Servers, Network Equipment, Routers , Network & IT Infrastructure
If you need continuous monitoring of your IT equipment, Hardware & Infrastructure, our monitoring services can ensure you receive alerts when things go wrong, almost immediately, over e-mail or SMS or other forms of communcation, as per the selected plan.
The service can be supplemented with  the Remote Support Service for immediate action in case of  problems. If subscribed to, our consultants  will also receive a copy of the alert and will work with you in identifying and resolving the problem almost immediately.
The remote monitoring service is also available for Webservers with an advanced option for application monitoring, where we can alert you in case of high loads or when your customers are seeing what they shouldn't be – errors, 404 pages etc.
Remote On demand Support / Troubleshooting for Servers & Applications
On-demand Support is meant for small businesses to get support on a case-to-case basis and is a great add-on if you don't require constant, or ongoing support.
Due to the nature of this service, support requests are usually charged based on their priority, availability of the consultant and expertise requirement, so we advice you to kindly book advance slots for remote on demand support.
---
Currently, all our management, support and monitoring services are  offered only via a remote link and we will usually ask you to have a VPN (OpenVPN, PPTP, IPSEC or a Cisco) and/or provide a SSH/remote login into your IT equipment. You might also need to ensure uptime of the network link to ensure we can connect to your equipment & infrastructure.
Like all other services offered by Exreal  the remote services are also highly customized and specific to your organization and it's needs, so we ask you to contact us with the exact nature of your requirement to ascertain, which features might suit your business.